The Fat Duck in Bray is the complete opposite of its near neighbour the Waterside Inn, The Waterside goes for old fashioned comfort (old money clientele), the Fat Duck does "flash" (new money clientele).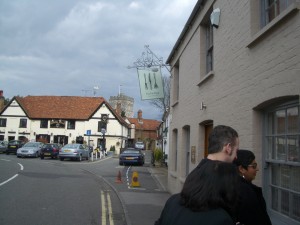 The room is minimalist in style and the food is excellent with very over the top presentation.
We visited before the recent alleged food poisoning problems, and experienced all the trade mark gimmicks – Dry Ice, Dragons Breath, IPods and the obligatory Snails Porridge. We also went for a matching flight of wines. There are two price options here, expensive and extortionate.  We restrained ourselves and kept the wine bill under £100 per person.
It was an experience, but I have to admit I missed the warmth of the Waterside Inn as once the meal is finished, there is no way you would want to hang around or indeed be encouraged to hang around in the rather cold room.  Then again I guess that is why Heston Blumenthal's Hinds Head is only a few yards away.
The Fat Duck is currently number 2 on the S.Pellegrino World's Best Restaurants list.