I've been asked a few times now about how I got into creating my Google Maps.
I first started using Google Maps to enhance my foodblog www.noexpert.co.uk a few years ago.  I created food and shopping related Maps and subsequently made use of the 'Eating & Drinking in Ramsgate Map' when I was asked to do a guest blog for the Visit Ramsgate Website in 2017.
Later following an informal meeting with Rebekah Smith the Ramsgate Town Promoter.  I suggested creating a 'Music Venue Map'  which when presented with my Food & Shopping Maps was effectively the beginning of the Visit Ramsgate Websites Maps and Trails page.
The Google Maps I created initially used the default Google Map icons and when I created the 'Dog Friendly Places in Ramsgate Map',  I found I did not have suitable default icons for some of the Map entries, to resolve this problem I created some bespoke Map Icons.
I was not entirely happy with the look where Google default icons and my bespoke icons were displayed together on the same Map,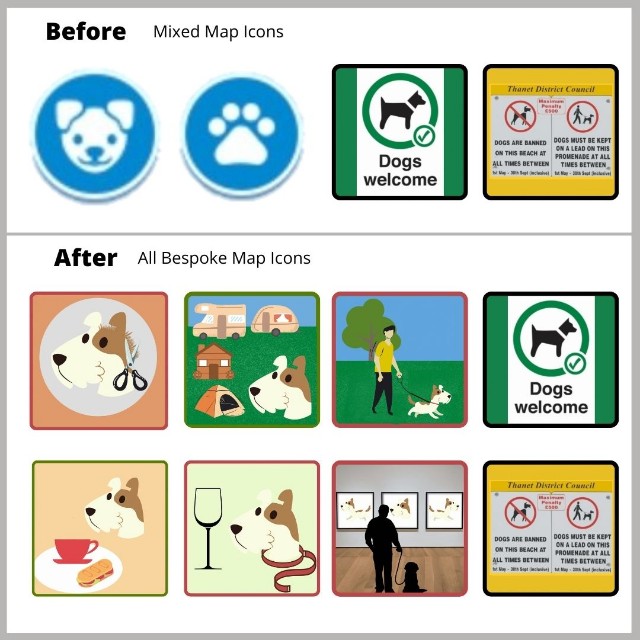 so when asked to create a Map covering 'Barbers, Salons and Spas'  in Ramsgate I made use of a graphics package I had "mastered" during Lockdown to create a range of bespoke Map Icons.  The bespoke icons on the 'Barbers, Salons and Spas Map'  were well received, encouraging me to produce suitable bespoke icons for all the entries on earlier Maps.
The Ramsgate specific Google Maps have been very popular with several of the older Maps accumulating over 20,000 views. The 'Where to Shop in Ramsgate Map'  for example has been viewed over 27,000 times.
Rebekah Smith contacted me again about creating a special Map showing the locations and the £5 offers being made by the local businesses taking part in a FiverFest campaign.  The Map was to be embedded temporarily on the Visit Ramsgate website for the duration of the advertising campaign.  Something that we plan to repeat for other campaigns.
A few days into the FiverFest campaign I was contacted by Sharon Davies on behalf of Thanet District Council. She really liked the Ramsgate Map and asked if I could quickly produce a similar FiverFest Map for all of Thanet.  The Map I created covered businesses in Birchington, Broadstairs, Margate, Ramsgate and Westgate on Sea.
Both FiverFest Maps did well in enhancing the campaign. 39 businesses took part in the Ramsgate campaign and obtained over 2400 Map views and 123 businesses took part in the Thanet wide campaign and obtained over 2700 Map views.
As well as the Maps, I also put together a range of Trails :-
Nature Trail – Ramsgate to Pegwell
Finally when I collated the statistics for the Visit Ramsgate Maps and Trails in November (2021), I discovered that the total number of Map/Trail views had exceeded 100,000. Which was great news.
To learn more about No Expert Map creation follow me on Instagram.