Spent the weekend in Ramsgate. It's only 1 hour and 20 minutes from London on the High Speed Train, so visiting this seaside town over a weekend is well worth doing, especially if you manage to eat as well as we did.
Caboose Cafe – NOW Rosebud Cafe and Winebar – closed 2017
We had a lovely breakfast at Caboose Cafe, a relatively new Cafe Bar, just off the High Street. The Eggs Benedict and the Eggs Royal were delicious and very reasonably priced at £4.95  – that alone says we're not in London anymore.
The quality of the food and coffee was commendable, this Cafe is a great find, it's certainly not your typical Ramsgate all day breakfast venue. In the evenings there is a Mexican Cantina menu and even the odd live event, they are working on bringing quality acts to Caboose, with a view to helping make Ramsgate a destination for touring bands and comedians.
UPDATE: 2016 –  Change of management, the Mexican menu is no more, now called Rosebud Cafe and Winebar.
UPDATE June 2017 – CLOSED
Royal Harbour Brasserie
We also made a return visit to the Royal Harbour Brasserie, braving the blustery winds to walk out to the end of the Harbour Arm where the restaurant is located. It's so worth the trip, not just for the warm welcome at the Restaurant or the above average food, but for the spectacular views out to sea and inland to Ramsgate Marina, what a location to watch the sunset! We arrived just a bit too early to sample their evening menu, and instead had to choose from a  more limited one. The Wine list was also rather basic. First we shared a Assiette of house nibbles, this would have been a pretty substantial starter for one (a steal at £5 and more than enough for 2 people).  Then after that excellent start, we tucked into our main courses,  I had a large fillet of sea bass with bisque sauce and perfectly cooked new potatoes, and my companion had a suitably autumnal venison stew, both dishes arrived on "Alan Partridge" sized big plates.  We had not realized how hungry we were until we miraculously managed to clear them.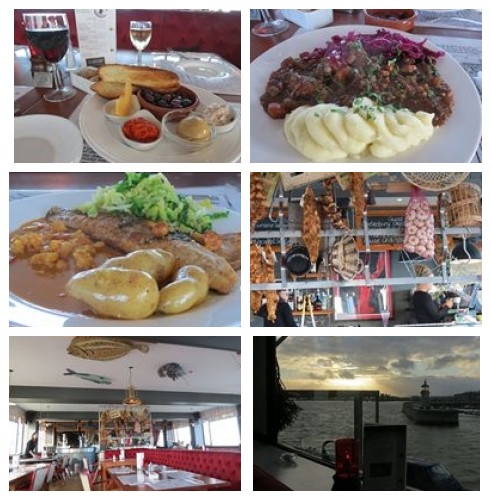 Age and Sons – closed 2014
On the Sunday we decided to go to Age & Sons for lunch, as this is a restaurant we have always liked for its reliable cooking and pleasant ambience.  The restaurant was awarded a Bib Goumand in 2009 and it just seems to keep getting better and better. Sunday lunch is served in the attractive main restaurant area on the top floor (they have a French kitchen style area on the ground flour and a Cocktail bar in the basement). I had a beautiful piece of Venison and lovely creamy dauphinoise potatoes and my companion really enjoyed his Pork Belly, braised cheek & fritter with black pudding puree & garlic mashed potato.  We finished our meal by sharing a cheese board served with some rather moreish home made biscuits.
All three of the venues we visited are ones that we would highly recommend, especially Age & Sons, which has grown into a gem of a restaurant that any town or city would be proud off.