No Expert Maps
It's almost time to put up the Christmas decorations!
December is just days away, and there's already lots of Christmas activities being advertised, so this weekend I'm doing a Christmas swap over for some of the standard No Expert Maps  (ones that that apply all year round and cover the locations of Restaurants, Cafes, Bars, Pubs, Shops, Barbers, Salons and Spas). The Maps are now displayed with Christmas themed Icons.
The Christmas Eating & Drinking Map provides links to Christmas Menus and information on Events/Party's.
The Christmas Shopping Map provides links to information on special Christmas offers.

Christmas Maps can be added to a website or blog in the run up to Christmas and removed after Christmas or included for the duration of special Christmas Events, like these ones :-
Larger Maps
The Christmas Maps (and the standard Maps) can be set up to cover quite a large number of businesses/items in a single Map, the Maps zoom facility enables you to select to focus on a specific area of the Map. You can also use the Side Menu option (click on the Side Menu icon in the top left hand corner of the Map) to not only view an index of the Maps contents, but also to switch off/on the layers being displayed.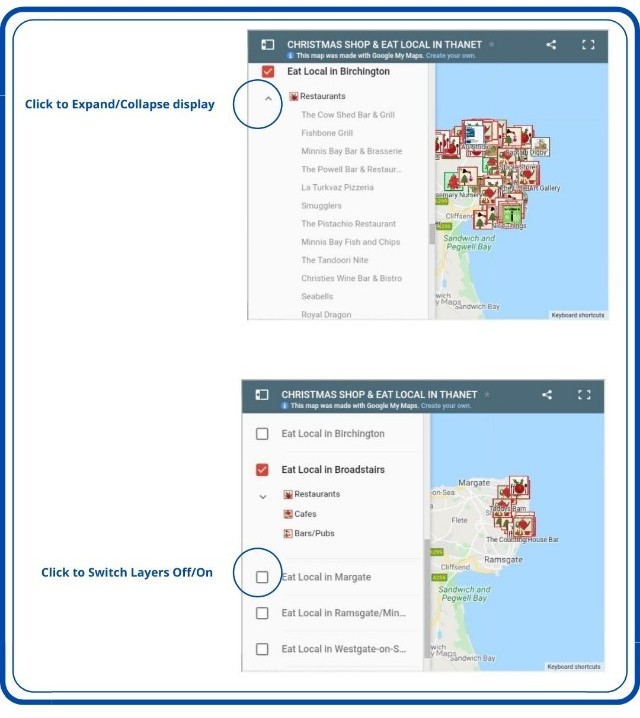 The example below covers over 500 businesses, it is part of Thanet District Councils Shop & Eat Local this Christmas campaign.
The contents of this Map are also available in a series of smaller Maps one for each Town in Thanet – Click here to see these Maps.
You can also use the following links to go directly to the smaller Town specific Google Maps
Town Maps 
Thanet Map 
Some No Expert Map Benefits
Bespoke No Expert Map Icons will stand out more than the standard Google Map icons.
The No Expert Map Icons provide strong visual clues to the type of business/event.
The No Expert Maps can be kept up to date (the default Google Map displays often show business that no longer exist or have moved location).
The designated Layer structure allows for a logical filter method to display Mapped items.
Trails can be mapped out with distance information.
Click here to learn more about No Expert Mapping.