My first visit to the Michelin starred restaurant at Parc des Eaux Vives, a small 5 star hotel on the shore of Lake Geneva was with some trepidation.  After some disappointments on the culinary front in Switzerland I expected to spend too much money on mediocre food.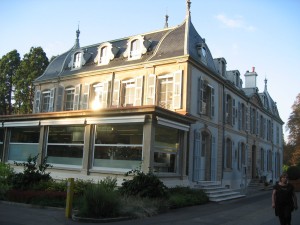 The table had been booked a month in advance for Saturday lunch time, we arrived at the beautiful venue, got escorted to the lovely dinning room and found we were actually the only guests, it did not bode well!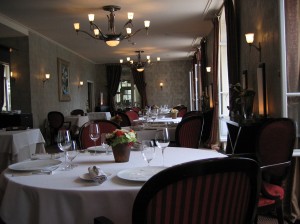 As soon as the amuse-bouche and the amazing seaweed bread arrived we knew we were on to a winner.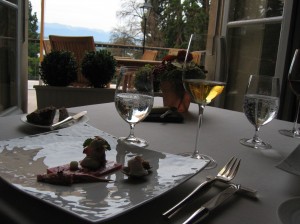 We finished off a delicious meal and moved to the terrace overlooking the gardens and the lake, taking time to enjoy a small bottle of PX .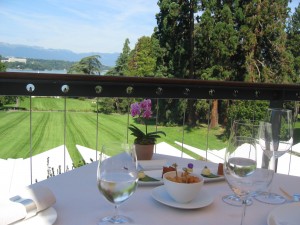 So as the first experience was so fabulous we returned, this time staying as guests in the Hotel and much too my surprise they had actually upped their game. The restaurant was still not full, just a few tables set up outside on the small terrace, which made for a lovely atmosphere. The food was superb, and beautifully presented, this place really merits its two Michelin stars.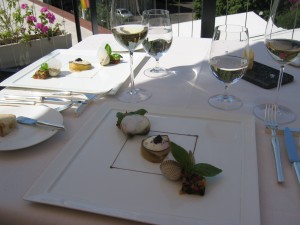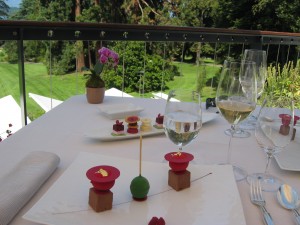 We also tried the Hotels more informal restaurant "The Brassery", which was OK, but nothing to write home about. Oh yes and they upgraded us to a suite, so all round it ended up being great value for the money.
UPDATE : March 2010 – This restaurant has sadly closed. See :-
Genevalunch.com