On our visit to Ramsgate's newest restaurant (it's only been open for three weeks at the time of writing this review) executive chef Craig Mather was manning the small Kitchen area and pizza oven left over from Pizza Express, the previous tenants of this landmark building overlooking the Royal Harbour.
Travellers in Italy may be a strange name for a restaurant but I think any travellers to Italy would be more than happy to find somewhere that served Pizza this good. The sourdough base was lovely, but what really stood out to me when I took the first bite of my Tartiflette Pizza (crispy smoked pancetta, slow cooked onions, confit garlic, Jersey Royals, cream, parmesan and thyme) was the delicious fresh ingredients used to create it.  My companion had the Gamberi Pizza (King Prawn, chilli, cherry tomatoes, rocket and parmesan) which he was equally enamoured with. GB Pizza in Margate make excellent Pizza and are understandably renowned locally, but I have to say based on this visit, Travellers in Italy can give them a run for their money.
I couldn't manage a whole Pizza, so they very kindly boxed the remaining slice. Here's hoping it reheats ok, as I'd hate to waste it.
The room looks lovely now, so much warmer looking than its previous incarnation and the staff are both friendly and efficient.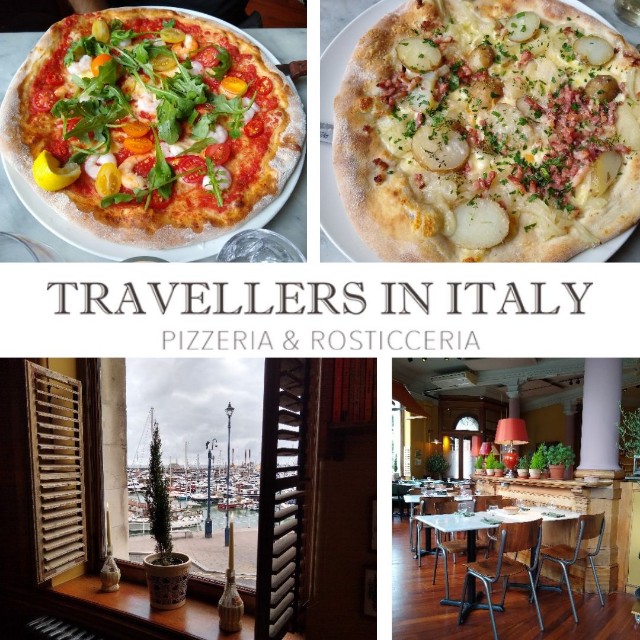 James Thomas the owner of the Royal Harbour Hotel is building a small restaurant empire here in Ramsgate, first with the Empire Room in the basement of the Royal Harbour Hotel, then Little Ships the excellent brasserie overlooking the harbour and now Travellers in Italy. I wonder what's next.
UPDATE September 2022 – Recently dined here with visiting friends, who were very happy with the quality of the pizza, the efficient service and the lovely view over the Marina.
The Empire Room mentioned in the above review is now closed.
UPDATE July 2023 – Travellers in Italy is now closed.