To start celebrating chocolate week, I went with my favourite chocolatier to Chocolate Unwrapped at the May Fair Hotel.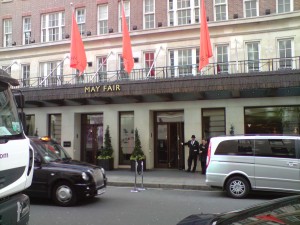 We spend a couple of hours at this event, sampling the wares of a few interesting chocolatiers. There was a display of chocolate art and a number of stands. The exhibitors ranged from the lower end of the scale, i.e., high street brands like Thorntons and  Hotel Chocolat, right up to the high end bespoke chocolatiers like Paul A Young.
Chocolates can be a bit like wine, once you have tasted the really good stuff there is no going back, or to quote Michel Roux "Once you have discovered the pleasure, richness, complexity and taste sensations of fine chocolate, you will never look at chocolate in the same way". So sorry Thorntons we walked right passed your stand.
From what we could see, there were two real standouts, they were both relative newcomers in the field.
The first was Paul Wayne Gregory a former sous chef who also gave one of the talks, he is definitely going places with 9 of the chocolates in his selection being award winners. PWG is at the top of his game, he currently provides chocolates to Michelin star chef Gary Rhodes, and his latest addition a rum chocolate is stunning.
Update: I have just tried another one of his chocolates – called "Space Dust", superb!.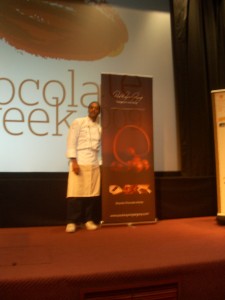 The other standout was based in Leeds of all places, they were Lauden Chocolates who presented their selection in very simple but elegant transparent boxes. However the presentation alone would not have sold me on them, if they had not got the taste right. Like PWG, they are all about intense flavours, that really work with the chocolate.
As part of my chocolate indulgence weekend I also managed to squeeze in a chocolate martini at 5th View.