Another visit to the South coast to make the most of our Summer – Eastbourne this time.  Rather impressed actually. Eastbourne sea front is like a better kept Brighton. A short drive or a two miles walk along the coast path, heading south and you will reach Sovereign Harbour.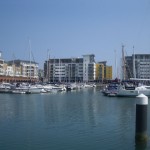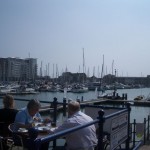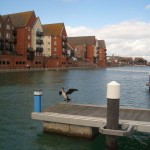 Sovereign Harbour is a huge rather attractive marina, which unfortunately seems to be somewhat lacking in bars and restaurants.  The rather small Waterfront complex is where the restaurants and bars are located, the  restaurant that looked the most interesting to us was called Thai Marina (only found out its name when we got the bill as the awning hides it and there was nothing on the menu but a logo as far as I could see).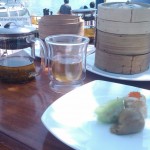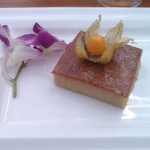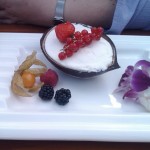 This was a good find, I enjoyed their selection of Dim Sum and the dessert options though limited were good. I had a delicious coconut custard dish and my companion had an attractively presented coconut ice cream. Serving truffles with the Green Tea was also a nice touch.
Very relaxing, especially if like us, you get the weather and can sit out on the large terrace.
Marks out of 10 for Thai Marina during the day
Food 5.5
Service 5
Ambience 5
UPDATE : April 2011 – Made a return visit to Thai Marina, this time in the evening. I found the service to be particularly good. Too much lemon grass spoilt one of my companion's dishes, but on the whole the food quality was well above average.  For my main course I ordered a Green Curry, which was not exactly as expected, much hotter with some red peppers and British Aubergines rather than Thai ones. However it worked, the sauce was delicious. It went well with the lovely fluffy coconut rice. The drinks/wine list was a surprise, it included a really good selection of spirits and several less common wines. We had a bottle of Picpoul De Pinet which complimented my curry beautifully.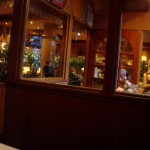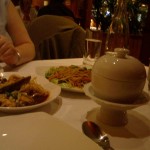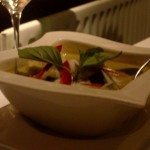 UPDATE : May and August 2011 – Another two visits and another two very good meals. The Prawns and the Fish Cakes were perfect, I loved the Snow Crab with Wasabi dip and the Octopus I had was so tender that I managed to cut it easily with my spoon.  I also loved the vegetable carvings, they added that extra level of fun to the meal.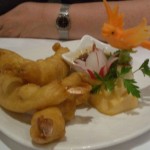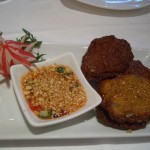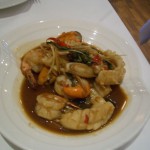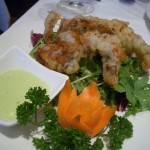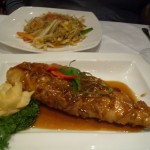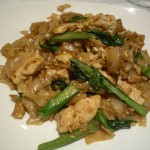 Marks out of 10 for Thai Marina in the Evening
Food 6.5
Service 6
Ambience 5
Simply Italian – another option
The Waterfront complex also houses a Simply Italian restaurant, this is part of a small chain of Italian Restaurants. It's also worth a visit.  The Calzone I had was definitely better than anything Pizza Express can deliver and the pasta wasn't bad either.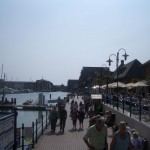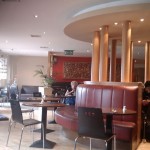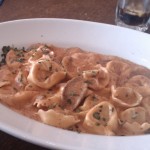 Marks out 10 for Simply Italian
Food 5
Service 5
Ambience 5