Didn't like the name before I visited, didn't like the food when I visited.  Then came the bill!, I certainly didn't like that.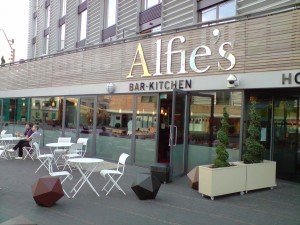 Alfies at the Bermondsey Square Hotel is not cheap, we went shortly after it opened when they were doing an introductory 50% discount, even with the discount I felt completely ripped off.
For starters I had asparagus with egg (expecting a nice runny egg to dip the asparagus in – got a hard boiled egg and some horrid mushroom sauce).  Then it just got worse, more of the disgusting gravy with my next course, it wasn't the mushroom sauce but something rather close in taste and consistency.
We ordered a bottle of Chablis for about £26, and like the food it was decidedly inferior, basically I can only describe it as plonk.
This place is way below the standards of the other restaurants in the area.  How it can be described as "a significant addition to Bermondsey's burgeoning foodie scene"  or as "a place that champions fresh English dishes" is a joke.  I rather wonder if the people who wrote this "advertising copy" actually ate there!
Marks out of 10
Food 2
Service 4
Ambience 2
UPDATE December 2010 – Alfie's now have a new chef;  not sure I can bring myself to go back though.
UPDATE January 2011 – In a few weeks time Masterchef Judge Gregg Wallace is opening a new restaurant in the Hotel, replacing Alfies, see Big Hospitality Artical for details.
UPDATE April 2012 – Have yet to read a positive review of the restaurant (Greggs Table).
UPDATE September 2012 – The Hotel and restaurant are currently being used for the reality show Hotel GB – have to say that the place seems to be more about PR than food.