Dinner at The Waterside, the one in Eastbourne on the seafront that is, rather than the way more famous one in Bray on the riverside.
This Waterside is actually a very attractive boutique hotel close to the Pier. There is no formal reception area as the focus on entering is the stylish bar and restaurant.  We had booked our table for 7:00 mainly so we could get back to London at a reasonable time, and were shown to our table in the conservatory area – probably ideal in the summer but rather cold in atmosphere and temperature in the winter, despite the heating.  So with a bit of persuasion we got them to move us into the main restaurant area, which although fully booked could handle the change if we were able to vacate our table by 8:30.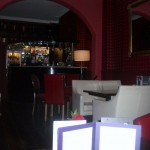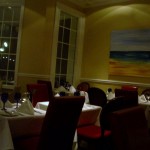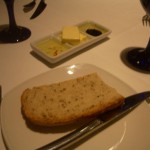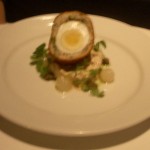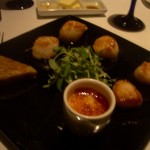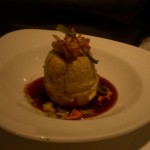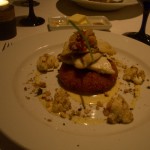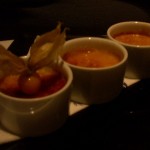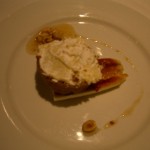 I do like it when restaurants make an effort with the bread. The Waterside presented us with two different olive oils, some butter and a single piece of bread.  Does not sound that great does it, but when that single slice is a delicious piece of mustard bread, I have no complaints at all. Give me quality over quantity anytime.
I ordered the scallop dish for starters, and my companion went for the scotch egg with coronation style chicken and pickled onions, which on arrival looked very nice. However it was totally eclipsed by my scallop dish – Apsleys take note here – not 5 wafer thin slivers of scallop but 5 large juicy beautifully cooked scallops, accompanied by a mustard crème brulée and cashew nut baklava – yes there was quantity here, but it delivered on the quality too along with some imagination. For main course we ordered Plaice and Game Pudding.   There was nothing conventional about the Plaice, being served as it was with Dukkah and cauliflower – I really enjoyed this dish.  The delicate use of spices worked well, you could really taste the fish and the cauliflower. The potato cake it was served on was also good, really fluffy and light.  My companion enjoyed her Game Pudding too,  but did feel it was missing something and a little short of gravy. For dessert I had the carrot cake with caramelized banana and nuts and my companion had the more spectacular looking trio of crème brulée ABC (Amaretto – very nice, Bailey's – subtle, Cognac – too subtle).
The Waterside has one AA Rosette, but in my view actually met the criteria for 2 Rosettes to the letter.
"Innovation, greater technical skill and more consistency and judgement in combining and balancing ingredients are all needed at this level."
The timing on food delivery and service was quick, so there was no problem vacating the table for the next sitting.  It was a shame we had to leave,  as it would have been nice to relax in the bar and try out some of their reasonably priced cocktails (well reasonable by London prices at about £6 each). Eastbourne also looked lovely at night, beautifully lit and very grand.
Marks out of 10 for The Waterside
Food 6.8
Service 5.1
Ambience 5.5
UPDATE : April 2011 – Made a return visit to The Waterside to try more of the menu. There were a couple of dishes from the previous visit still on the menu, but enough had changed to make the return worthwhile. I had a lovely Mackerel dish to start, beautifully flavoured with lime juice. Then a Skate and gnocchi dish for main course (not the best cooked Skate, it was a bit stringy, but the gnocchi was very good), my companion had the Plaice, which was perfectly cooked.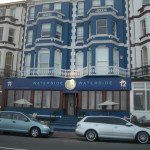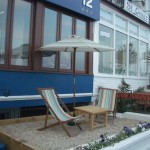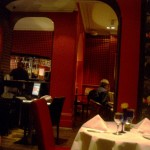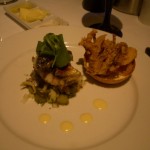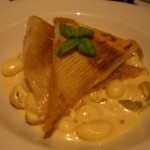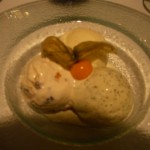 We just had to try the Basil Ice Cream for dessert – a triumph. The Waterside is such a good find. I am sure I will be back to try a few more of the chefs innovations.
UPDATE : May 2011 – Just heard that The Waterside has won a  2nd AA Rosette.  I did see that one coming.  Well done to Lori Parsons and the restaurant team.
Morgans

Another Restaurant in Eastbourne worth mentioning is Morgans, we did a walk in here for their set lunch (for the price of a cocktail in The Waterside). The food was well cooked and seriously good value – check out the picture of the pâté starter which came with hot fresh bread drizzled with olive oil, that alone was worth the money.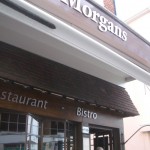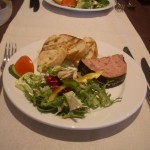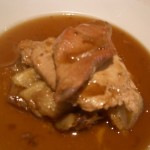 So it was a very productive day, with two good restaurant finds.
Marks out of 10 for Morgans
Food 5.5
Service 4.5
Ambience 4