I had not been to Stark since they moved a few doors down from the original ex sandwich shop in Oscar Road (their old premises is the home of their sister restaurant Dos). They are now located in a very "Instagrammable" wooden shack like building. I loved the new decor with it's cool vibe. It felt like a little bit of San Francisco/New York in Broadstairs.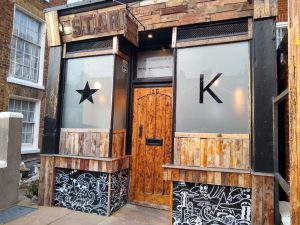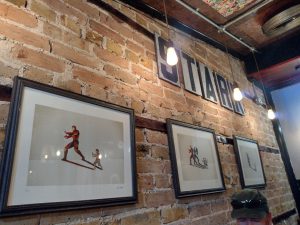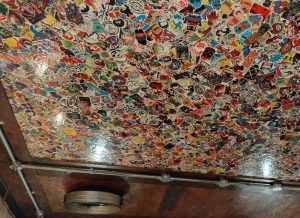 Getting a reservation in this tiny restaurant takes some doing, I needed to book a table for visiting friends so was limited on my dates, I marked my diary for 3 months in advance and basically checked their website almost daily for about two weeks after that to see if they had released a table on a suitable date. I was close to giving up on the idea when a slot popped up. (A comment from someone on my Instagram feed describes Stark as "the most difficult Michelin starred restaurant in the world to bag" – not sure that's the case, but it takes some perseverance).
The restaurants focus is seasonal tasting menus with matching flights of wine, so you can just sit back and relax, there's no need to waste time pouring over menus.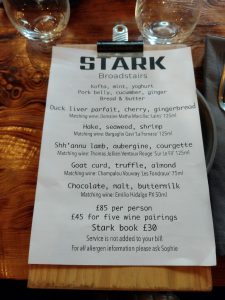 We started of with Kofta lollipops and tasty bits of Pork belly flavoured with mint, cucumber, yogurt and some warm crusty bread (needed to mop up the mint, cucumber & yogurt), very moreish.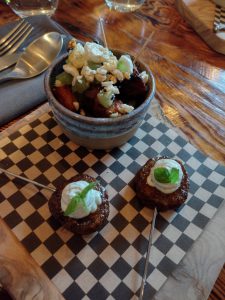 After that it was a well paced delivery of beautifully presented dishes and matching wines.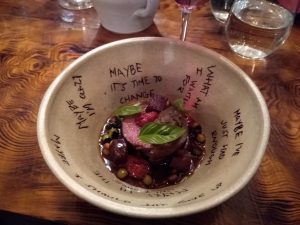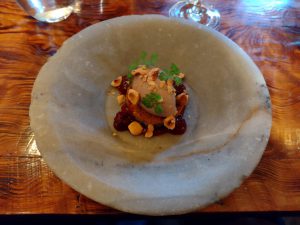 Although we struggled a bit to keep up with the wine, our fault for talking so much I expect.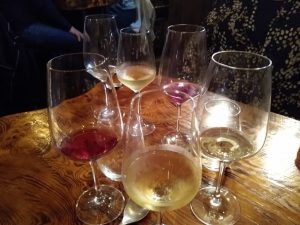 The standout dish for all of us was the fish – an absolute stunner of a dish simply described as Hake, Seaweed, Shrimp. With a rather lovely matching white wine.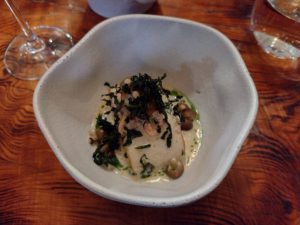 I couldn't eat all the dessert, a bit too much chocolate for me, as I was already full by that stage. It was served with a glass of Emilio Hidalgo PX sherry, a controversal choice at our table, as not everyone has a sweet tooth like I do. I've drunk a lot of different brands of PX over the years and the Hidalgo one is arguably the best, liquid heaven (I actually have a bottle in the house, unopened waiting for a suitable occasion to indulge).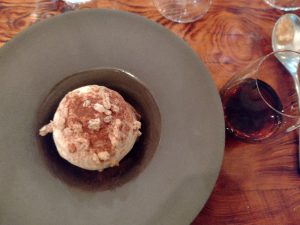 Stark is not a cheap night out especially given it's status as Thanet's only Michelin starred restaurant.  You have to admire their bravery for realising their own vision (their hopes & fears are literally written on the ceiling & plates). They have created a wonderfully cool and relaxed atmosphere with Sophie as front of house and Ben working hard in the open kitchen.
Stark is a great destination restaurant for a special occasion.
UPDATE: July 23 – Sister restaurant Dos mentioned above is now closed.