A post from No Experts Australian Correspondent
Until recently, Randwick has been most famous for it's racecourse, but no longer! In 2010, this up and coming area, is best known to gastronomes for Matthew Kemp's Restaurant Balzac. Located in an historical sandstone villa known as "Verona", the premises has previously done service as a private villa, a pub, a girl's school, a butcher shop, and even a Pizza Hut. The interior has recently been beautifully and sympathetically restored, and provides a wonderful setting to dine in.
The restaurant is justifiably famous for taking humbler cuts of meat and elevating them to superb dishes, that are both wonderfully flavoured, and a joy to eat. This was highlighted superbly in our Bastille Day degustation menu. Three courses stood out for us as worthy of mention. The first being the Fish Soup with Chervil Chantilly and Poached Snapper Cheek, which was wonderfully aromatic. The second, a humble beef daube that melted in the mouth and was simply divine. Lastly a humble Rice Pudding with Apple crumble that was elevated to the perfect winter desert. Being a "Bastille day menu", our food  matched with French Wines, despite being a little on the young side, the pairings were superb.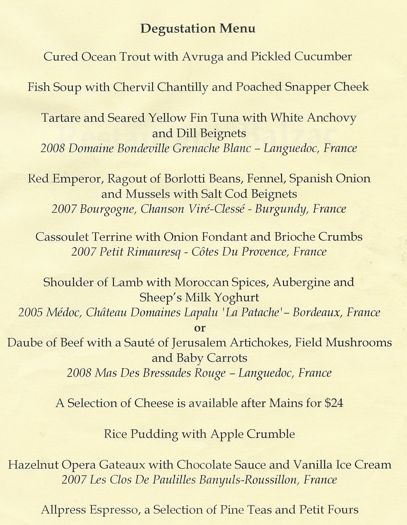 Service was good, a little more laid back than your average French restaurant, but then again this is Australia, and staff were welcoming without being intrusive. Overall a superb evening, excellent modern French food from this young English chef!
Marks out of 10
Food 8
Service 7
Ambience 7.5