Harveys of Ramsgate now has an AA Rosette and a change of chef (or so we were told).  We thought we would give it a second chance, and see if our opinion of it differs now from our last rather damming post.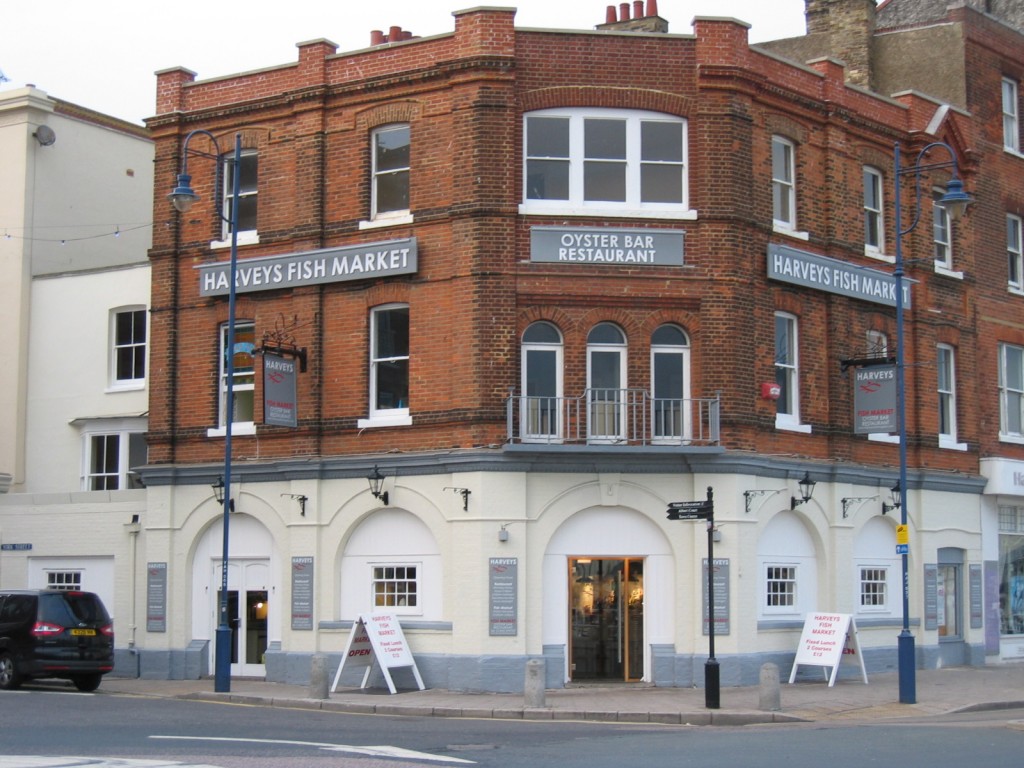 We ordered the fixed price 'grazing menu', (which had a very limited fish selection)  2 courses for £12 (this certainly sounded like a bargain),  and a couple of glasses of pretty good wine. We also ordered a portion of their own baked bread which was okay. The starters arrived. Things were looking up as the presentation appeared to be not too bad. My salmon and beetroot with micro greens actually had flavour. Unbalanced but flavour none the less. My companion went for the butternut squash risotto. It also looked good but turned out to be completely lacking in flavour, basically just stodge ….oh dear as we were ready to amend our opinion and eat humble pie.
My main course arrived. Apparently this was a 'belly of pork'. Well it was like no cut of meat I had ever seen. It looked more like a cross section of spinal column (more cartilage than belly!). Only one word came to mind during this course and that I'm afraid was 'Repulsive'.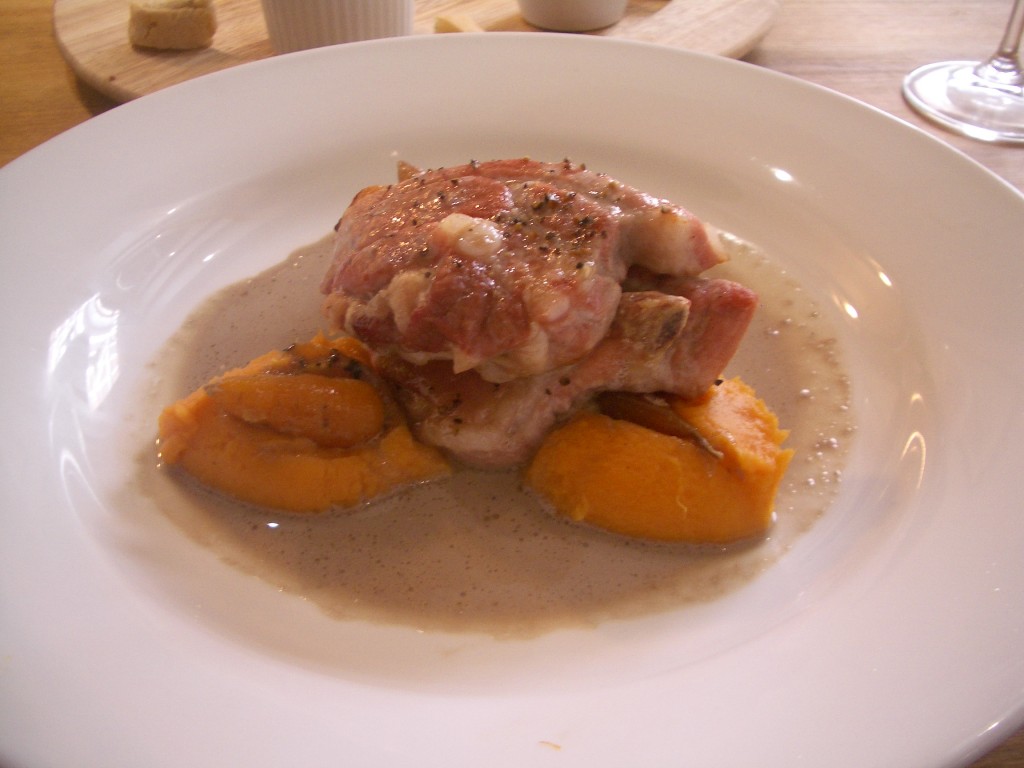 My companions Plaice looked like it had been bitten by a Shark!. It was also over cooked.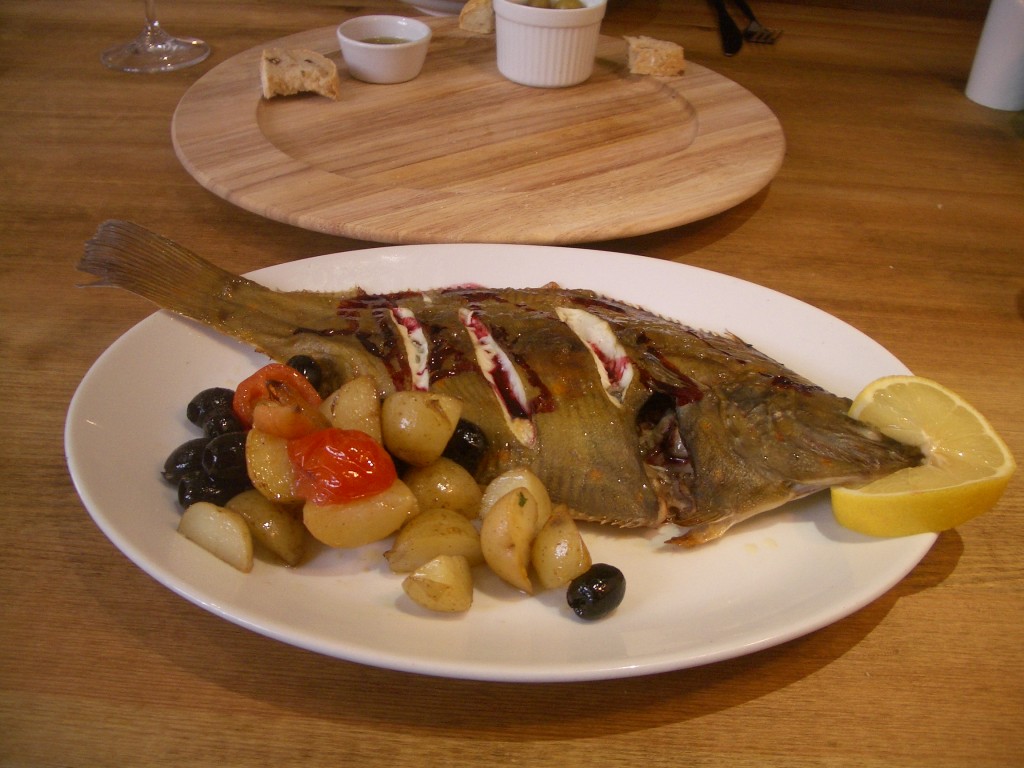 When asked if we wanted dessert or coffee we decided to pass and left the restaurant as hungry as we went in.
Instead we had pancakes at Miles Cafe Culture – a genuinely buzzy and quality establishment.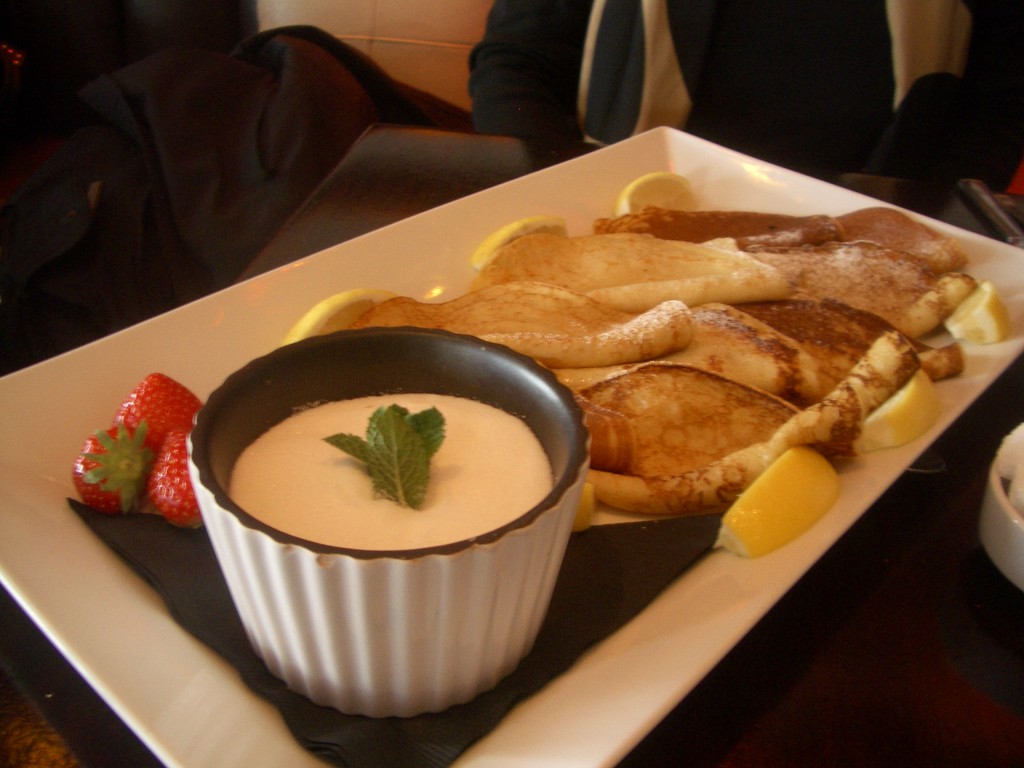 Our visit to Harveys was on a Saturday at lunchtime, only two other tables were occupied, so for ambience we had some background music and a baby crying in the corner. We were also a bit surprised that the fish slab was not  in use, to let us see what fresh fish was on offer.
We passed by again in the evening, on the way to Age & Sons, and noticed that the restaurant was barely half full. Which was interesting when compared to the completely full Age & Sons, which attracts exactly the type of clientel that Harveys are trying to target.
How the AA could award Harveys with "The only AA Rosette in Thanet" is beyond me. There are more deserving restaurants in Thanet, such as Age & Sons. It was also disconcerting to read the description of Harveys in toptable, it used words like "steller seafood" and intimated that Celebrity Chef John Burton Race was involved in the cooking. I am pretty sure he is not.
After two visits now, our conclusion was that Harveys would be an ideal candidate for another Celebrity Chefs TV show – Ramsay's Kitchen Nightmares.
It's great that so much money has been invested in Ramsgate, which does really need a good fish restaurant. We just don't feel the investment has  been made in the kitchen where it really counts. It's also good to know we are not alone in our views, as I have spotted a couple of reviews now that use words like "Dire" to describe the food in Harveys. So unless there are some major changes here, Harveys can relax as we won't be reviewing them again.
UPDATE – November 2009 : Just read Jay Rayners recent review for the Observer, spot on. He was also brave enough to try the Oysters!
UPDATE – July 2010 : See picture below, this is amazing. It looks like they are actually using the negative review in The Observer to market the restaurant.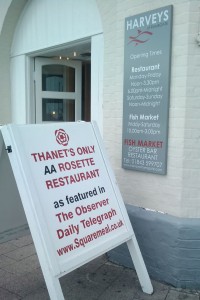 UPDATE – October 2010 : About time!  Harveys is finally closed – RIP please! For more information see post from Isle One.