Before I visited Abode in Canterbury, I had read a  review by a well known food critic which I thought was a bit harsh, this is after all one of Michael Caines projects.  Boy was I wrong, if anything he was being too kind!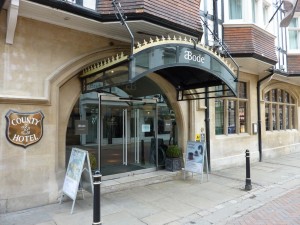 When we arrived we were left waiting for what seemed an age as there was no staff in the dining room. Not a good start.
The food when it arrived was totally underwhelming, some of it was just downright unpleasant.  One desert tasted like play doh© and another tasted like cigarette ash.
The kitchen also recently came under criticism from other sources, see Caterersearch.
The service was in general chaotic. What was particularly hard to swallow was that they charged London Michelin star prices. You would get better value taking the train to London than eating here. Sadly another "Faux Gourmet" experience to chalk up.
Abode apparently merits 2 AA Rosettes – the definition for this is "Innovation, greater technical skill and more consistency and judgement in combining and balancing ingredients are all needed at this level."
On leaving our opinion was that the only talent there was the busker playing outside.