Quirinale although in a basement is light and quite lovely.  I am sure it turns up on a lot of MPs expense claims, as it is very much a politico hangout.
The food is off a high standard. They have an excellent wine list and do a really good cheese course, that you select from the menu. It is served with a selection of biscuits, fruit and preserves.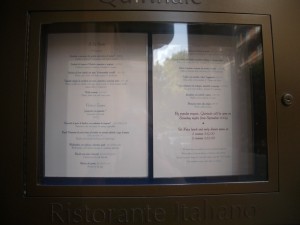 The Restaurant used to only open during the week, but from September it is opening on Saturday evenings as well. This will be interesting, as this place can not afford to let its standards slip – it used to be unquestionably the best upmarket Italian restaurant in the area, now however it has stiff competition from the nearby Osteria Dell'Angolo.
Marks out of 10
Food 6.8
Service 6.5
Ambience 6.5