In celebration of chocolate week, Almeida has joined forces with chocolatier Paul A Young to create a unique three course "chocolate" menu.  Each dish being combined with a complementary chocolate. So basically instead of wine matching, it's chocolate matching!.
The whole concept of a chocolate menu seemed a bit of a gimmick, so I was pleasantly surprised just how serious this food was.
The meal began well with a very nice goats cheese appetizer/canapé.  Then I had a stunning foie gras dish (described as pan fried foie gras, chocolate and orange – 64% Dominican Republic chocolate with a balance of sweetness and a delicate nutty, smoky taste.) I thought this dish was very subtle with great flavour combinations.
For my next course I went with the pork (braised suckling pig, creamed savoy – with Paul A Young's Ras el hanout spiced chocolate), again it was a dish that was beautifully complimented by the almost savory chocolate sauce.  We even asked the waiter for the recipe and to his credit he went out of his way to get it for us.
One of my chocoholic companions decided to forgo the main course and have two desserts instead. No problem, they just provided him with a "jumbo" sized dessert as the main course. For the rest of us, there was a choice between two desserts. A chocolate souffle that was not so well received and a stunning dessert called Chocolate 3 ways, which included some lovely fudge.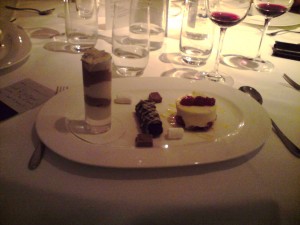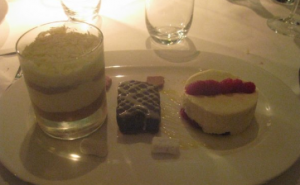 On the wine front to match the chocolate theme, we went for a rather nice Portuguese red.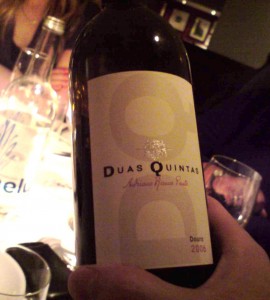 The only low mark here related to the wine service where the waitress kept overfilling glasses, which meant that the wine was not evenly distributed and forced us to get a second bottle to make up the short fall. (We would have gone for a second bottle anyway, but would have preferred to do it in our own time).
We then finished the meal with coffee and petits fours.
The layout  is very well designed with a distinct bar area and a dinning area that consists almost entirely of round tables. I love round tables in a restaurant, they work so well for both groups of two (both dinners can face into the room) and groups of 6 (much more sociable as you can have cross table conversations with everyone). The acoustics were also very good, we could not hear anything from the neighbouring tables.
The bar is worth a visit on it's own, we mainly indulged in yummy Chocolate Martinis, but there are some other cocktails on the menu that are worth trying. One of the champagne cocktails, "The Morgan" (Morgan's Spiced rum, gomme syrup, cranberry juice and champagne) was very nice too.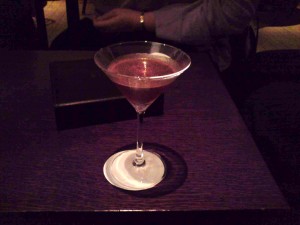 The restaurant has 2 AA Rosettes, which it certainly merits. It is also off course an ideal pre-theatre venue for the Almeida Theatre. I certainly plan to return, even without Chocolate week.