A group of us arranged to have lunch at the Ritz.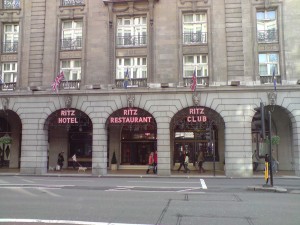 They have a very reasonably priced set lunch menu and a comprehensive wine list that includes several "less" expensive bottles of wine (i.e., under £30).
We had the best table in the restaurant, (top right corner) as it afforded a view of the stunning room and the garden area. The restaurant is a "stickler" for the Jacket and Tie rule (they will supply ties if necessary), as is the Rivoli Bar. The bar I was not so impressed with, the decor in particular is very garish.
The restaurant in the Ritz has 2 AA Rosettes, which sounds about right.
Marks out of 10
Food 6.5
Service 8
Ambience (in the restaurant) 8, (in the bar) 4
UPDATE December 2011 – The prices have gone up since this visit and the food has really improved, see post